In this episode, I get to know my soul sister Elisha Halpin even more. Especially her fierce and forward-thinking philosophies on embodiment and the nervous system as it connects to spiritual awakening. Elisha is breaking new ground in this territory even as it is being co-opted by the Instagram self-help machine. Her depth, passion, commitment and vision in this field is extraordinary.
Biography
Elisha Halpin is a sacred life mentor and embodiment coach for visionaries, creatives, healers, and coaches. As the Priestess behind the Leader, Elisha facilitates sacred leaders into the embodiment of their Soul's Essence allowing them to trust their power, create their sacred service to have an impact, and authentically express their truth. As a channel of Divine Feminine wisdom, Elisha's mission is a revolution of leadership through reclaiming our sacred nature and following our Intuitive Intelligence. Elisha is the creatrix of Sacred Soul Somatics. She supports through 1:1 and group programs. Elisha trains leaders in Divine Feminine Leadership and Priestessing. She also works with a small circle of women on evolving consciousness and divine feminine codes through mystery school and pilgrimage work.
At the Institute for Intuitive Intelligence, Elisha is the Teaching and Learning Coordinator and the creator and teacher of the Advanced Practitioner program for Embodiment. She is also a certified Intuitive Intelligence Trainer and Teacher. Elisha partners her channeling and intuitive work with Somatics, Embodied Coaching, Sacred Life Coaching, Breathwork, and Neurosculpting for a whole system approach to transformation. Elisha is also a tenured professor at Penn State. She is also an embedded faculty member in the Arts and Design Research Incubator with her research into somatic interventions for trauma and stress.
In this episode we discuss:
Nervous system regulation as a spectrum not simply regulated or dysregulated
The mystical experience in Ireland that awakened Elisha's spiritual journey
'Performative' nervous system regulation vs spiritually mature, responsive regulation
Episode Resources
Website: https://www.elishahalpin.com
---
Never Miss an Episode
Get a notification straight to your inbox with each new episode.
Plus, receive all the latest news and events from the Institute.
---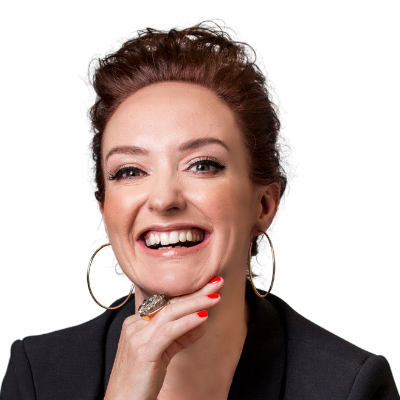 Dr Ricci-Jane Adams is the principal of the Institute for Intuitive Intelligence, a world-class, global professional intuition training school. She trains exceptional spiritual women as new paradigm priestesses, socially conscious leaders and profound mystics. Ricci-Jane is the author of bestselling Spiritually Fierce, as well as Intuitive Intelligence Training and the forthcoming Superconscious Intuition. Ricci-Jane has a doctorate from the University of Melbourne in magical realism. She has spent over twenty-five years devoted to her spiritual awakening and is a qualified Transpersonal Counsellor. Subscribe to the Mailing List