Inspired Action and Sacred Rest:
Discernment of the Warrior Queen
by Krista Hammerbacher Haapala
The archetypes of both the Warrior and the Queen are both at the forefront as we live through these growing pains of coming together in unity. These vibrational profiles of energy have served us well over and over again throughout human history. And as we stand in our power in this profound shift, we find a dynamic and magnificent opportunity in the alchemy of these two archetypes.
Invite yourself into the embodiment of the Warrior Queen.
The Warrior Queen archetype is unique in that she embodies the persistent, resilient intensity of the Warrior and the self-possessed, wise sacred service of the Queen. With this alchemy comes the well-honed skill of discernment necessary when we are feeling beleaguered, overwhelmed, or underresourced.
When we countenance the Warrior Queen as her own alchemical archetype, we crave her energy to live in our day-to-day. We seek to be that Warrior Queen in the challenges that face us, so that we don't bounce between mania and exhaustion. This persistence, this forward motion of the Warrior combined with that inner peace and leadership of the Queen is the embodiment for our times. This unique combination of the these characteristics can help us step outside of ego and employ the discernment we need to know when to move forward and when to rest.
How do we apply the discernment of the Warrior Queen? 
A powerful first step is to sit with your Warrior and sit with your Queen archetypes one at a time. They will each have their own qualities as they manifest within you, for you, and in service to the world through you. Familiarize yourself with their vibrations, their feel in your body, their visual images in your mind's eye, the sound of their voices, the nature of their vast wisdom. Invite them in one-by-one until they invite you to merge them.
Next, sit in devotion and invite them both to the joyous occasion. Allow them to take the lead in how they choose to merge. They may trade their accoutrements: the Warrior wearing the crown, the Queen wielding the sword. They may simply step into one another and you watch the cosmic alchemy. In whatever way they merge in your devotion, stay curious to your experience of their energy.
Now, sit in generous communion with your Warrior Queen. What does she look like? How does she stand? How is she resourced? What does it feel like to be in her presence? Get intimately connected with your own powerful Warrior Queen energy. When we learn our own Warrior Queen, we get outside of our ego and we're able to embody the discernment of her energy moving through us. It's one path to put aside our fears or egoic limitations and harness the energy of a Self that is unlimited, that is purely driven by our deepest wants and desires.
Lastly, heed her radically honest wisdom about discernment.  Countenance what it means to discern through that lens to really get real with yourself about the decisions that you're making. Decisions that are made out of  fear, scarcity, limiting thought, or cultural brainwashing. Your Warrior Queen will have none of that.
While the Warrior is going to be persistent, she's also going to consider how well-resourced she is before she moves forward. She understands that there is time to press forward and there is time to nurture and fortify. And the Queen, of course, is there in leadership and in sacred service, not just in action. In their alchemy, they must balance inspired action and sacred rest on behalf of the collective.
When we take those sets of characteristics and consider the discernment of the Warrior Queen, it's important to recognize that there are times our ego wants to ignore this potent wisdom. Our ego often wants to either keep us small, out of leadership, estranged from our voice or, in the case, of the Warrior wants us to press ahead regardless of whether or not we feel resourced or ready for what lies ahead. The Warrior Queen recognizes the influence of the ego, the domesticated culture, and her own shadow.
The embodiment of Warrior Queen provides a powerful filter of discernment, a powerful lens for our daily decisions. She invites us into the light to consider when we feel fully resourced or when we must honor the call to sacred rest. She calls us to consider whether or not we are fully aligned with the inspiration of the action. May you blissfully commune with and integrate the wisdom and embodiment of your glorious Warrior Queen.
BIO:
Through her writing, art, and consciousness design practice, Krista leads humans to embody bliss consciousness for passionate, pleasure-led lives and loves. Whether speaking, leading circles, or in sessions, Krista serves the collective as the Bliss Mystic: an author and sexologist, an artist and poet. She is the creator of collage art and author of books, including Unlearn Moderation, Body 2.0, and Ischemia. She finds her own edge through hiking, dancing, crosswords, weightlifting, and wandering in her RV. Krista's practice is global and her home is oceanside a few steps from the magical Maine woods.
Image Credit: Photo by Xuan Nguyen on Unsplash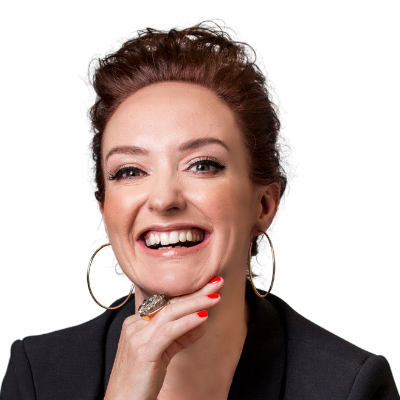 Dr Ricci-Jane Adams is the principal of the Institute for Intuitive Intelligence, a world-class, global professional intuition training school. She trains exceptional spiritual women as new paradigm priestesses, socially conscious leaders and profound mystics. Ricci-Jane is the author of bestselling Spiritually Fierce, as well as Intuitive Intelligence Training and the forthcoming Superconscious Intuition. Ricci-Jane has a doctorate from the University of Melbourne in magical realism. She has spent over twenty-five years devoted to her spiritual awakening and is a qualified Transpersonal Counsellor. Subscribe to the Mailing List