Leader Archetype
Karen Swainson
Do I need to know who I am, before I can lead others?
Through journeying to meet myself and sharing all that it took, is this the true sense of a Leader…
This journey of self-discovery started with a jolt, one I wasn't ready for but most certainly needed. To awaken something so deep within me I felt I was finally unable to turn away and go back.
The leader archetype in me is slowly awakening as I feel the moves, the shifts, pulling at me to step forth on this path of service. The force is growing stronger than what I can possibly pull away from. At times so electrifying I can hardly contain myself. Then the fears rise and cause me to pull up short, to sit in the storm before I can fight my way back out.
To learn through the experiences, sit through them and being able to stand again. To always step forward no matter how many fears come down upon me to be the obstacles in my path. All of these I learn from, grow and share.
The sharing is where I see the power lies. Each time I share I get a different insight and realize there is a deeper layer yet again. Increasing my strength to know the path ahead is worth every bit of the shadows I leave behind.
Looking out I see you standing there. So elegant and tall, your shoulders pulled back and head held high. Portraying a beautiful tranquil space of calmness and strength. Sharing your wisdom, not afraid of how raw this still is for you and the vulnerability that all who experience this precious moment know that you speak from the heart, all feeling with a deep-lying passion that's uncompromising.
Your words are smooth, slow and ever so softly spoken. One by one they penetrate my thoughts, patiently breaking through the barriers and landing in my soul as a truth.
I know that we are one – you are me and I am you, there is nothing separating us.
I know in this moment that you guide me to be a better version of myself. You are always with me ever so slightly at times out of reach, giving me the courage and strength to step into my fullness, to embody the Leader within me. 
Seeing clearly with all that is open – the heart, body, mind, and soul.
Hearing all that's not's being said – to know, to trust.
Feeling the joy of life's wonders and incredibly grateful for everyday miracles.
Guiding others with the purest of light and clearest of intentions.
Having a fierceness that knows no boundaries – taking on the darkest of storms.
Not be afraid to feel more, to share more and accept everything as a delicious opportunity of growth.
'Shining so brightly nothing can take your light away, be the beckon for those held in darkness'
This is the leader I envisage to lead us all to our own truth, our glorious soul's truth.
*This article was first publishing the Spiritually Fierce magazine issue 4 2019.
BIO
Living in the beautiful South West of Western Australia with her beloved husband and two incredible children.
Karen is nearing the end of her studies as a Third Level Priestess – an Intuitive Guide.
She is passionate about helping and holding space for others as they rediscover their own truth and retore faith within – guiding them on their souls' paths purpose.
Facebook – Karen Swainson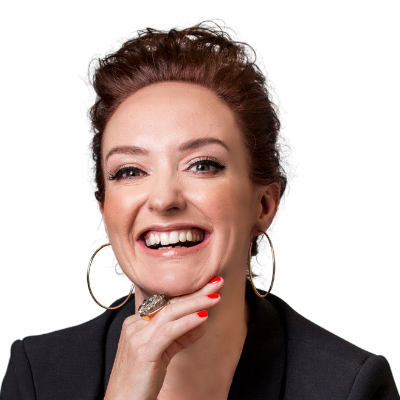 Dr Ricci-Jane Adams is the principal of the Institute for Intuitive Intelligence, a world-class, global professional intuition training school. She trains exceptional spiritual women as new paradigm priestesses, socially conscious leaders and profound mystics. Ricci-Jane is the author of bestselling Spiritually Fierce, as well as Intuitive Intelligence Training and the forthcoming Superconscious Intuition. Ricci-Jane has a doctorate from the University of Melbourne in magical realism. She has spent over twenty-five years devoted to her spiritual awakening and is a qualified Transpersonal Counsellor. Subscribe to the Mailing List