Maiden. Mother. Mentor. Maven. Mystic. 
Leonie Percy
I have always loved words that began with "M". I identify with all these archetypes as being part of my story. I adore these words that conjure up mystery, magnificence, and magic.
Being a modern-day mystic is embracing all these parts of yourself. The maiden with her innocence and wonder. Traveling, exploring and discovering the beauty of the world. When I was in my maiden life before becoming a mother, I travelled the world for 10 years visiting over 65 countries. This taught me so much appreciation for the life I had been blessed with. It sparkled a lifelong quest for seeking out the truth of who we are. I had so many magical moments being with Mother Gaia, meeting incredible people from different cultures, feeling connected to my "spirit" and a sense of complete oneness with the universe. We may look different on the outside, but we are innate all the same. We feel the same fears and the same love on the inside.
All divinely connected. 
I became a mother 10 years ago and I have three beautiful star babes who are 10, 4 and 1 years. Being a mother changes your perception and opens up your heart in an unimaginable way. It is an invitation to go deeper and embrace the mother energy that surrounds you. A fiercely protective and loving being with a compassionate and unconfined heart. My journey from darkness to light was being thrown into the fire of transformation as my spiritual awakening was experiencing a heartbreaking divorce that left me a single mother. It was the breakdown before the breakthrough. 
From divorce to divinity. 
The path of the mindful maven turns adversity into opportunity. I became a yoga and mindfulness teacher, wrote an award-winning book "Mother Om" and accepted my purpose to be of service and step into my power of being a spiritual leader, a mentor, and an Intuitive Guide. To shine my light to inspire others to do the same. The mentor within you knows the way home. I radiated love out the world and met my real soul mate and am now re-married and happier than I have ever been. I continue to manifest so much love success and abundance in my life because this is the work of my soul's journey. Your vibration and energy create your world. Your thoughts are shaping your reality in each moment. 
Buddha says" All that we are is the result of what we have thought".
Being a modern-day mystic is combining all these parts of yourself. When you become a mother you can lose the freedom and spontaneous nature of the maiden. A modern-day mystic is being the most loving person in the room. Being in service to whatever is right in front of you. Even when your kids are screaming in your face, these little mavens are here so you can evolve into the mentor to guide them and call on the deep wisdom of your inner mystic. Being fully in tune with your intuition. Being guided by God. Speaking your truth, being brave vulnerable and courageous. Fierce and fabulous. It is choosing in every waking moment to be authentically you. In all your perfectly imperfect glory. 
Let people see the real, flawed, quirky, glorious and magical person that you are. 
Be unashamedly YOU.
Your spiritual stamina will make or break you as you either choose to hand your life over to being a mystical goddess who loves in the cathedral of her heart. Or, you will be in turmoil with the toxic thoughts in your head that keep you playing small, being a slave to your fears, keeping you from your power and purpose. 
The choice is yours. Choose fear or love. Muggle or Mystic. 
I choose Magic and Miracles. 
*This article was first publishing the Spiritually Fierce magazine issue 3 2019
BIO
Leonie whose name is pronounced like Princess Leia-knee, is an Intuitive Guide, mindful mentor, mystic maven, speaker and author of the international best selling book Mother Om.
She is a multi award winning business owner and host of the Magnetic Mama podcast which is currently in over 40 countries.
Her soul purpose is to shine her light and inspire others to do the same.
Leonie is a spiritual leader and change maker. A spiritual seeker and truth sharer.
Leonie lives in Brisbane, Australia with her husband and 3 children.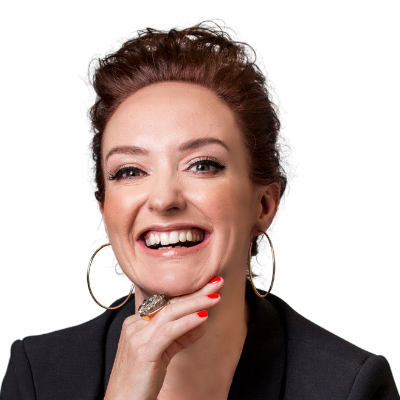 Dr Ricci-Jane Adams is the principal of the Institute for Intuitive Intelligence, a world-class, global professional intuition training school. She trains exceptional spiritual women as new paradigm priestesses, socially conscious leaders and profound mystics. Ricci-Jane is the author of bestselling Spiritually Fierce, as well as Intuitive Intelligence Training and the forthcoming Superconscious Intuition. Ricci-Jane has a doctorate from the University of Melbourne in magical realism. She has spent over twenty-five years devoted to her spiritual awakening and is a qualified Transpersonal Counsellor. Subscribe to the Mailing List